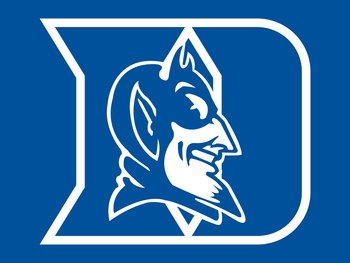 (EJSIC is previewing several college basketball teams.  Check out Michael Street's Memphis preview here.)
One of the most fascinating teams in college basketball to watch this season will be the Duke Blue Devils.  Replacing four year stars Kyle Singler and Nolan Smith, as well as one-third-and-done Kyrie Irving would seem a nearly overwhelming challenge for many coaches.  However, when you're an all-time great coach, like Duke's Mike Krzyzewski, it's hard to get rattled.
Last season's results:
32-5
ACC Runner-Up
ACC Tournament Champion
Lost 93-77 to Arizona in Sweet 16
Key departures:
Kyle Singler  (34.8 mpg, 16.9 ppg, 6.8 rpg)
Nolan Smith (34.0 mpg, 20.6 ppg, 5.1 apg, 3.2TO, 35% 3PT)
Kyrie Irving (27.5 mpg, 11 gps, 17.5 ppg, 4.3 apg, 2.5 TO, 47% 3PT)
59% of scoring, 39% of rebounding, 63% of assists
Key returnees:
Mason Plumlee (25.6 mpg, 7.2 ppg, 8.4 rpg)
Seth Curry (25.0 ppg, 9.0 ppg, 2 apg, .9TO)
Ryan Kelly (20.1 mpg, 6.6 ppg, 3.7 rpg)
Notable non-conference matchups:
Michigan State (likely to be the game in which Mike Krzyzewski breaks Bob Knight's all-time wins record)
at Ohio State (a true road game!)
Maui Invitational (possible matchups with Memphis and Kansas or UCLA)
Before we go much further, I should mention that as a lifelong Tar Heel fan, a hint of subtle bias may occasionally creep into this analysis.  But I'll try to keep my personal feelings out of this entry as much as possible.  I'll let you watch Duke play, and you can form your own opinions about the way Coach K and his staff approach the game.
New Faces
Coach K will have his challenges; he lost a significant amount of talent, production, and experience.  But Duke, as almost always, is still going to be pretty damn good.  They bring in another very strong recruiting class, headlined by guard Austin Rivers, son of NBA coach Doc Rivers.
Rivers, who Coach K recruited from the University of Florida, is a very polished scorer, and figures to be featured prominently in Duke's guard-oriented attack.  He will also bring a large dose of swagger to the team, which will delight Duke fans to no end.  Rivers is a welcome addition to college basketball, which has been watered down the last couple of years both in talent and in personality.
With his combination of elite talent and immature arrogance, Rivers has the potential to achieve the level of hate earned by past Duke greats J.J. Redick and Christian Laettner, as well as former Duke player Josh McRoberts.  Rivers should win ACC Freshman of the Year and contend for all-conference honors.  His biggest obstacles will be external expectations and his own judgment.  If he's as good as advertised, and if he buys into team basketball, he will be a real difference maker for the Devils.
6'8" Alex Murphy looks to be the prototypical Duke tweener-forward.  And young Mr. Murphy was so eager to begin setting screens and launching threes that he opted to reclassify and enroll a year early.  If he is able to produce enough in the early going to crack Coach K's rotation before it tightens for the homestretch, he could give the Blue Devils a bit of what they lost in Kyle Singler.
Michael Gbinije from Chester, Virginia is also a talented player with a lot of upside, but it remains to be seen how prominent a role he will play in an already crowded backcourt.  Gbinije may see limited minutes this season, unless he can find a way to produce early.
One of the most important newcomers for the Blue Devils will be Quinn Cook.  If he can quickly prove himself to be an ACC-caliber point guard, he will force his way into the rotation.  The lead guard position looks to be one of Duke's most obvious unknowns, as neither Rivers or Curry appear to be a true point guard, and Tyler Thornton's face has been on milk cartons since his arrival in Durham.  Cook will warrant significant minutes if he is ready to facilitate the offense and set up his teammates (especially spot-up shooters Curry and Dawkins).  However, having said all that, Duke won a title with Jon Scheyer at the point, so maybe the point guard issue won't be a weakness so much as an uncertainty.
Now, I know you were wondering, and the answer is "yes".  There is another Plumlee.  This one's named Marshall, and from all accounts he's not as good as the other ones.  Therefore, I'm not sure we need to spend a lot of time talking about him right now.  However, I do look forward to Monty, Morton, Milhous and Marco Plumlee on future Duke rosters.  (If you're wondering when Coach K plans to retire, the smart money is on "when they stop making Plumlees".)
Stepping Up
One of the interesting things to consider when looking at this Duke team is whether players who have been role players emerge as go-to guys?  Seth Curry looks to be the most likely candidate to make this leap, at least on the offensive side of the floor.  He's a terrific shooter, and Duke's system should be able to free him up for plenty of good looks.  Ryan Kelly may also be ready to contribute more consistently.  He is apparently sporting a beard now, and let's not forget the last time an awkward Duke big grew a beard.
More Balance?
I hope you're sitting down for what I'm about to tell you because it is shocking.  Got your Life Alert necklace at the ready?  Okay.  Duke is going to rely heavily on the three point shot.  And they're going to be really good at hitting them when they get open looks.  Curry, Rivers, and guard Andre Dawkins give the Devils three very potent three-point shooters, and Kelly and Murphy should be able to stretch defenses as well.
Duke has pretty decent frontcourt depth with three Plumlees, Josh Hairston, Ryan Kelly, and Alex Murphy.  That lineup doesn't scream "star power" or even "great talent", but it may work for Coach K's needs.  Six big bodies and thirty available fouls are hard to ignore.
Coach K has been telling the media that his post players will play a more prominent role, and will be a focal point of the offense.  That may end up being true, but we've heard similar things out of Durham for years and it hasn't really materialized.  At this point, it seems to be a chicken-or-the-egg situation:  does Coach K de-emphasize post play because of the caliber of players he attracts, or does Coach K attract those players because he de-emphasizes post play?  That question will likely be debated by scholars a thousand years from now.
Getting Stops
In addition to point guard uncertainty, I think defense may be a bit of a weakness, at least by Duke standards.  Look, nobody teaches defense better than Mike Krzyzewski.  Discounting the bush-league tactics his players are taught to use to gain questionable advantages, his guys do play with sound defensive fundamentals, and their intensity and focus is always on display.  Frenetic, over-playing defense is a hallmark of Duke basketball, and it's a big part of why Coach K will end up on the Mount Rushmore of college basketball coaches.
Still, I look at this lineup and wonder if the Devils won't take a slight step backward defensively.  Seth Curry can't guard a parked car, or at least he hasn't shown that ability thus far.  None of the recruiting experts talk much about Austin Rivers' defense, and there's a reason for that.  The Plumlees aren't great post defenders.
Now, before you overheat your Mom's laptop firing off angry comments, let me reiterate that I don't think Duke will be a bad defensive team; I just don't think they will be quite up to Duke standards.  I think you'll see a Duke team who needs to "outscore" teams a bit more than we've seen.  If you're a Duke fan, that's not necessarily a bad thing, because this Duke team is built to score in bunches.
Predictions
This team will be a threat to put up a lot of points every night out, and they will win a lot of games this season.  Ultimately, inexperience and uneven post play will bring their season to an end.  If Austin Rivers decides to come back for a sophomore season, look out.
Maui Invitational Champs (remaining undefeated in the event all-time)
ACC: 12-4, 2nd place
NCAA: 2 seed, advancing to the Elite Eight